Xel-Ha Park: Tours & Tickets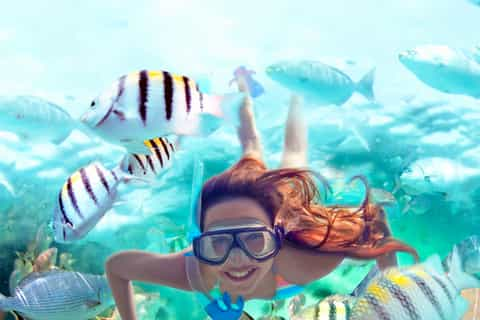 Cancun & Riviera Maya: Xel-Há All-Inclusive & Transportation
Pickup available

Valid: 1 day

Cancun & RM: Xcaret Park, Xel-Ha & Chichen Itza 3-Day Combo
Pickup available

Duration: 3 days
Free cancellation
Change of plans? No problem. Cancel up to 24 hours before your activity starts for a full refund.
What people are saying about Xel-Ha Park
A great park that will keep you busy if you like the water&marine
It is pricy but totally worth it. The cheapest tickets are those bought in advance, do choose the transportation option which will give you more time at the park. Very accessible with ADO bus as well but you loose about an hour in the morning. Meals and drinks are included ( that includes alcoholic beverages) and both are excellent. You get a locker and key as well. I chose to snorkel but you can also tube down the river. There are several access points to get in/ out of the water wherever you want. The trail along the cenotes is very nice as well but can be slippery on wet water shoes, look for the small caution triangles. I was in the water by 10 am, used a bicycle to get to the beginning of the river. I did the whole river to lagoon once and then spend time in the lagoon exploring the marine life near the rocks and watched the folks on the zip lines etc It's huge! I had lunch in about 30 min, walked the trail for about 45 min., and spend the rest of the time in the water.
Spectacular time at park! Fun for all ages!
Get time at Xel-Ha. Didn't wait to long in line. Photo package is definitely worth it so you don't have to worry about carrying your camera all day! If you want an activity like swimming with the manatees (which my husband enjoyed) get there early. We arrived at 9am and the earliest slot they had available was 2:15pm. You must be on time too! Premium activities like dolphins, manatees, zip bike and fish therapy are all additional and range from $20-$119 depending on which one you choose. All food and beverages (including alcoholic beverages) are included! Fantastic time worth every penny. The only thing I can say is that I preferred to but the ticket online ahead of time so I know I have it....but it's the same price at the park
Great day out in one of Riviera Maya's many natural wonders
Combination of jungle and aquatic experiences, Xel-ha's all inclusive ticket offered unlimited access to up to 20 activities and guided tours as well as meals and drinks. A must-do experience for all visitors to the Riviera Maya, especially those content to be shut away in an all-inclusive resort - you're missing out on all that the Riviera has to offer. We were staying in Tulum, which is only 15km away. We arrived at 9.15am to miss the rush of visitors later in the morning, and filled our day so much we didn't leave until closing time at 5.30pm. A great day out.
One of the 'funnest' things I've done in my life!
We LOVED snorkeling at Xel-Ha! Felt like Jack Cousteau exploring all the hidden areas along the "Lazy River". Most people just floated down, but we delighted in the caves and inlets. Could not believe the buffets - some of the most extensive I've ever seen, and the food was good too! The only difficulty we had was that the ticket-taker at Xel-Ha wasn't familiar with the fact that you could have a 'mobile pass' on your phone. She had to get the manager, and they had me forward the email from "get your guide" to them, so they could print it out.
Excellent day out. Plenty of time to do all free activities. Lazy river took us 30mins but you can float around longer in the wider open waters. We paid extra for sea trek which I highly recommend doing. We also did the zip wire bike, this is quite a unique experience glad I did it but I'm not good with heights so got around in record time :-0
Top Attractions in Riviera Maya
Cities in Mexico
Things to Do in Riviera Maya