Popular Hop-on Hop-off Tours in Malta

Malta: Hop-On Hop-Off Bus Tours
Valid: 1 day

Optional audio guide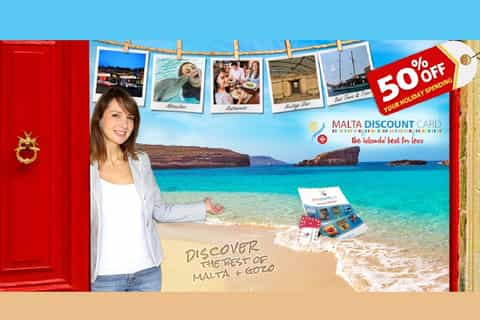 10-Day Malta Discount Card: 50% Off Top Attractions
Pickup available

Valid: 10 days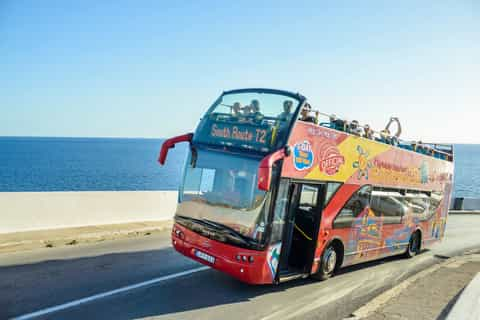 Malta: Malta Island Bus Tour and Optional Boat Tour
Valid: 1 day

Optional audio guide
Free cancellation
Change of plans? No problem. Cancel up to 24 hours before your activity starts for a full refund.
What people are saying about Malta
Joined the tour from Buggiba and stayed with the same bus all afternoon. This was primarily because the frequency of buses is every hour and if we'd disembarked anywhere we'd have been dependent upon the last bus of the day to get us back. No reason to think that it wouldn't have turned up, just didn't feel like taking the risk. Well, it was fantastic. The driver was very courteous and took the trouble to run upstairs and tell us how long we'd be waiting and also to check whether any passengers needed to take an earlier departing bus. He clearly knew the roads very well and at no point did we feel as if we were clinging on for dear life or dawdling. We were on the north tour and noticed that we reached Mdina bang on scheduled time. Importantly the only suggestion I think we'd make is to add some music in between the spoken commentary. We found the commentary really excellent. It was very informative
There are 2 different companies running the tours Citysightseeing and Supreme Travel. You need to check your ticket to make sure you get on the right bus. I got on a supreme tour bus and was told to get off because my ticket was only valid on a citysightseeing bus. The other thing you need to do is start early so that you can do both south route and north route. I started off late and could only do north tour. The tours don't run beyond 4pm so you won't be able to get on any buses after that time. It would be better value for money if you get to do both tours as there are amazing sights on both routes.
We went on the Southern route and found it very informative.
We picked up the Bus at a well marked stop outside of the Valletta city gate. Some of the other drop off/pick up points were not so well marked and you needed to have a clear mental map in your head. A flyer for each location maybe priced at one Euro would be useful for those without this ability. Very good tour despite some reckless driving on one of the buses. Can thoroughly recommend this as an informative day out.
Good hop on hop off bus. Two routes so took a two day pass andd id one each day. Would have been good if they stopped at Popeye's village and the Falconery Centre as well but organised and good stops.
This tour is perfect for the ones who want to see different parts of Malta fast and on a budget! The buses arrive every 30mins or so and you can enjoy the site and just hop back on!