Top attractions in Jaen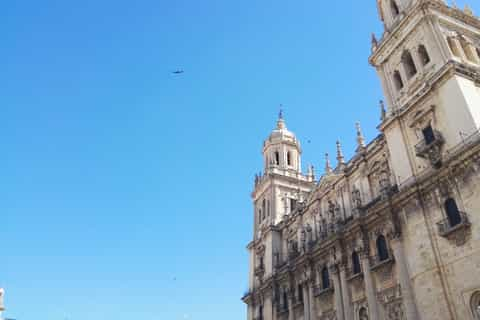 Jaén 2.5-Hour Tour: Cathedral, Arabs Baths and Old City

Jaén: Guided Olive Mill Tour with Olive Oil Tasting
Free cancellation
Change of plans? No problem. Cancel up to 24 hours before your activity starts for a full refund.
What people are saying about Jaen
Very informative and fun. The staff of the olive mill were excellent!
My guide was bilingual in English and Spanish which was great when I didn't understand everything. The olive mill has a deep cultural and family history and it was very enjoyable to learn about the factors that influence the olive oil's tastes, colors, and quality. A major ingredient is love! One thing that could improve is the information about arriving to the site. Jaén is a province and a city. The tour is NOT in Jaén and it is not accessible by public transportation. However, though it is tricky to get to the olive mill, you will not be disappointed once you arrive. The tour is fantastic and the olive oil is the best I have ever tasted. And the good news is that they sell their olive oil in bottles small enough to take in your hand luggage on the plane. Enjoy!
A thoroughly informative and interesting tour - highly recommended.
We especially chose this tour as we wanted to understand more about the culture of the olives and extraction of the oil. We were delighted to be given a thorough informative talk and tasting by this expert who was charming and helpful. A really good experience and totally worth the drive from Granada. Also only a fraction of the cost of the more touristy tours offered near to Granada. Excellent value and highly recommended.
Be charmed and fall in love with olive oil
A little detour but with so much to gain when learning so much about the humble olive. My daughter and I really enjoyed this tour, which in the end was just for us. Not only was it an interesting interlude in our trip to Spain, but we got to taste some amazing oils. Even if you aren't interested in the history and harvesting of olive oil, you will, I am certain, be charmed by this visit to a family-owned enterprise.
Really thorough, informative tour, well worth it!
Guide works at the mill and was really knowledgeable about the industry and process. Tour ran over and he stayed extra time, explained all the products in the gift shop, and even helped me figure out how to get to my next destination. Great experience and I learned a lot about olive oil production.
Luis was great! Informative and interesting. Great for foodies.
Ended up just the two of us, which was perfect. Luis, shared the history and processes of olive oil over the years, completing the tour with a tasting of their product. Perfect for anyone who loves to cook and wants to learn more about olive and the history, processing and different types.