Top attractions in Hafnarfjörður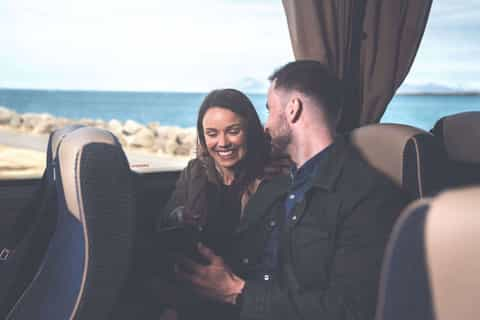 Transfer between Keflavik Airport & Reykjavik City Center

Icelandic Horse Riding Tour in Lava Fields
Free cancellation
Change of plans? No problem. Cancel up to 24 hours before your activity starts for a full refund.
What people are saying about Hafnarfjörður
My husband and I took this tour the last day we were in Iceland and it was the perfect ending to our trip. We drove to the site and had no trouble parking and joining our group. We have only ridden horses a few times--and not for many years--and the guides were very helpful and understanding for us as beginners. In addition, our horses were wonderful--gentle and easy to manage! We really enjoyed interacting with the horses and guides, getting to see the beautiful countryside and lava fields, experiencing the different gaits and taking some wonderful pictures! I really appreciated that on the way back we were able to split into groups to go at different paces based on our comfort. Overall it was a really wonderful experience and one of the highlights of our trip!
Travel from the airport was very good we didn't have to wait long for the bus to leave and it was waiting for us when we got there. What we didn't like was having to wait for an hour for another bus to take us to the hotel locations whilst the drivers were in the carpark at the bank doing nothing. My partner had to go the desk to ask when the bus was coming for us and a few other people and the reception went out the back and told them to get on with their work. All other coloured tickets collected passengers and left the 'Green' ticket holders waiting. 8/3/2020
Really easy to find as it's literally just outside the terminal door and only a short walk from the BSI Terminal to the hotel in Reykjavik. A lovely relaxing start to the holiday with someone else doing the driving and we could sit back and admire the views. Takes about 45 mins, plus the walk is about 20 mins at the other end. Return journey just as easy. Would certainly use again next time I am here.
Great ride. Instructors are well organized and well trained. Horses are very gentle. We were all beginners but the horses can operate on "auto pilot". Need to dress warmly. They have warm overalls and rubber boots if needed. Would book again without hesitation.
Landed and the bus was right outside the airport. 45 minute journey and then dropped at BSI station. Very easy and straight forward. Would use again