Popular Cave Tours in Gozo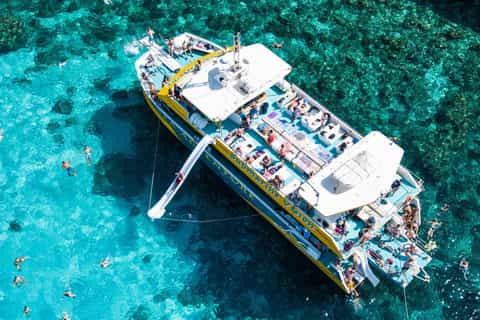 Gozo, Comino, Blue Lagoon, & Sea Caves: Full-Day Sightseeing
Duration: 7 hours

Optional audio guide

Malta: Comino, Blue Lagoon & Gozo - 2 Island Boat Cruise

Malta: Gozo, Comino and The Blue Lagoon Boat Trip
Duration: 7 hours

Optional audio guide
Free cancellation
Change of plans? No problem. Cancel up to 24 hours before your activity starts for a full refund.
What people are saying about Gozo
ive tried both the main operators now... the first get all the publicity, Hornblower was the BEST!! Crew were great, there was commentary on board,everything just seemed to be pleasant on this trip, nothing a chore. Very very friendly... good food, and very reasonable drinks... blue lagoon is a must...
Brilliant and well organised. Get there early to avoid disappointing seats. We chose to go to Gozo instead of staying at Cominos blue lagoon. Would recommend staying at the blue lagoon as it was amazing, plus there were cocktails in pineapples, food, amazing views and toilet facilities.
Awesome cruise- so worth the little money spend. You'll get a good atmosphere on board and to see most of the islands. Nice day trip and thanks for keeping up the offer even during Corona. I enjoyed it a lot and would've been a shame to miss out on it caused by the circumstances
Definitely worth it. A shame there were no life vests or floaters available for non swimmers. If it a sunny day, don't waste your time going to gozo like I did. Just stay at Blue Lagoon. Gozo can't wait for another day trip.
The crew mates are very friendly. Great trip if u want to spend some time swimming and enjoy the beautiful views. It's very windy and the sun is burning, so remember to bring a jacket and don't forget to bring ur sunscreen.