Apollo Theater: Tours & Tickets

Guided tour
Family friendly
Harlem: History and Gospel Bus Tour
Small group

Duration: 4 hours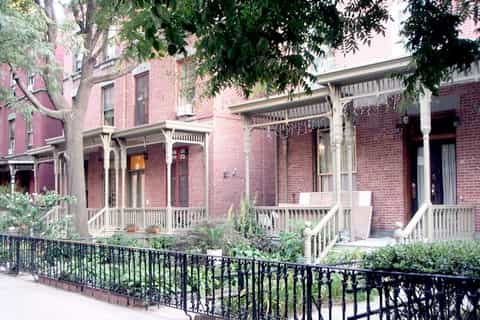 New York: Harlem Renaissance Walking Tour with Lunch

New York City: Walk This Way Harlem Hip Hop Walking Tour
Free cancellation
Change of plans? No problem. Cancel up to 24 hours before your activity starts for a full refund.
An Insider's Guide to Harlem's Apollo Theater
Having launched the careers of countless African-American musicians, the Apollo Theater in New York City's Harlem neighborhood ranks amongst the most important venues in the United States. Here are some of the events that shaped The Apollo's rich history.
1. A historic venue is born

Though built in 1913, The Apollo didn't receive its name until it was opened to black patrons in 1934. It became one of the most important institutions for African-American music.

2. Rubbing the stump

After a popular Elm tree in front of the theater was chopped down, the stump was relocated inside and performers started the tradition of rubbing the stump for good luck.

3. Amateur Night

The Apollo's legendary Amateur Nights were the start of many an illustrious career. In 1934, the 15-year-old Ella Fitzgerald became one of the first Amateur Night success stories.

4. Live at the Apollo

James Brown's 1962 recording "Live at the Apollo" was a huge success, spending 66 weeks on the Billboard charts and motivating many others to also record their shows at The Apollo.

5. Michael Jackson's breakthrough

Michael Jackson's 1967 Apollo debut with the Jackson 5 propelled him to fame. He performed at the venue throughout his career and a tribute was held there upon his death in 2009.
Planning Your Visit
Attend Amateur Night

The Apollo still hosts their famed Amateur Nights. They're one of the venue's most popular events so check their schedule and book your ticket in advance to snag a seat to this musical highlight.

Grab a bite to eat

If you hope to cap your night of soulful music with some authentic soul food, the area around The Apollo is brimming with excellent restaurants. The landmark restaurant Sylvia's is located two blocks away!
Good to know
When should I visit?

Box Office open Monday - Saturday 10:00AM - 6:00PM, Sunday 12:00PM - 5:00PM

Is it expensive?

Tickets vary based on the event.

Will I need a guide?

Guides are not necessary for events.

How to get there

On NYC Subway take the A, B, C, or D train to 125th Street and walk east to reach the theater.

Additional information



Purchase at least 2 tickets and receive a 30% discount.


Sign up for the Apollo A-list and receive emails providing advance notice on shows.


What people are saying about Apollo Theater
The best word to describe this trip is: OMG I LOVED IT! We got more then our expectations would ever dream of! And our guide, Deborah - WE LOVED HER! A truly amazing woman who knows her history and keeps the "life" up in the tour group. We loved the church and the community and they were so welcoming to us. A true gospel service with "hallelujah" and singing and music. Worth every dollar!
All the best and most beautiful places in Harlem!
It was a real pleasure spending two hours walking with our guide George. He showed us the beauty of this neighborhood both now and through stories of it's past. We spent a week walking around NYC but the tour with George was my very favorite. Thank you so much, George!
Excellent tour guide and interesting things to see
Our tour guide was really good and knew heaps of interesting history about Harlem. The church service wasn't quite what I expected but the other things that we saw were quite interesting. We had a small group so it was easy to ask questions. I highly recommend
This tour is a hidden treasure. George was knowledgeable and incorporated the right balance of history, perspective, and humor into his presentation. I now have a much more nuanced view of this part of the city and look forward to returning to explore more.
Fun time walking through Harlem with someone who knows the place!
Our tour with Reggie Reg of Crash Crew was really interesting and entertaining. He made everyone in our group feel welcome, and gave us lots of great insight into the culture and Harlem. My 17-year-old son enjoyed it and so did I (55)!